Mac OS X Unlocker for VMware V2.0

Unlocker 2 is designed for Workstation 11, Player 7, ESXi 6 and Fusion 7.
If you are using an earlier product please continue using Unlocker 1
Version 2 has been tested against:
* Workstation 11/12 on Windows and Linux
* Player 7 & Workstation Player 12 on Windows and Linux
* Fusion 7/8 on Mavericks and Yosemite
* ESXi 6.0
Download 2.0.8 Unlocker (Link below)
Visit the official site to download unlocker 2.0.8 (free registration required).
How to Install Unlocker on Windows 10 for VMware Workstation 12/11
Close the all virtual machines and VMware workstation program. Right click on 'win-install.cmd' and
select Run as administrator.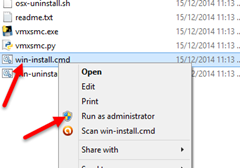 The script will stop the VMware services, copy few files and some other scripting stuff (you will see more
about on-going process on the command prompt) and start the VMware services.
Once it has successfully patched the VMware workstation 12/11, you should be able to see the Mac OS X
guest support as shown below.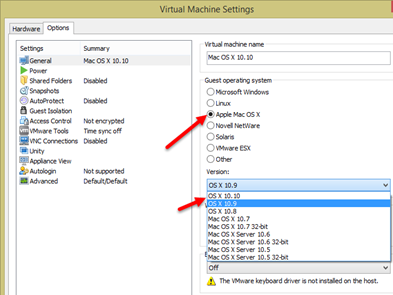 That's it, you should be able to install and use Mac OS X guest VMs on Windows computer now.
Here is the working Mac OS X 10.10.1 on Windows 8.1 with VMware workstation 11.

Read below if you have older versions.
Unlocker for VMware workstation 10, 9, 8 and 7
The latest Unlocker 2.0.7 will work on most of the VMware workstation and Windows Operating Systems,
but if you still have the older version, then you can follow below steps. I have not updated the screenshots
for latest 1.1.1 unlocker or VMware workstation 10/9. The all below screenshots remain same with earlier
versions (almost one year ago). But after seeing couple of positive feedback from users regarding this
patch for VMware workstation 10 (in this link), I thought to update this post.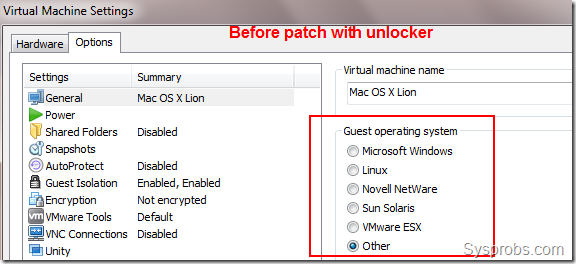 After applying patch with VMware unlocker – One more Guest OS type and versions.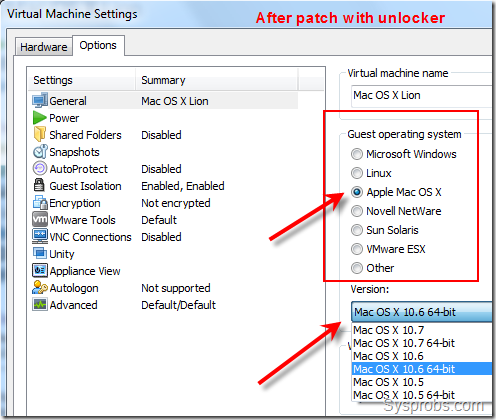 How to Use Unlocker
Its very simple. Close all VMware programs (if opened)
Extract the downloaded file. The latest Unlocker is having patch for Windows, Linux, Fusion 4.0 on Snow
Leopard and Lion and VMware ESXi 5.
Before run the patch, its recommended to take a backup of VMware program folder, because this
patch will replace the original files. Even though the utility takes backup which can be replaced later if
required, but its good to have a backup copy taken by you.
Right click on install.cmd file and select run as administrator option as shown below. ( or you can start
the command prompt as administrator in Windows 7 computer and execute install.cmd from command
prompt)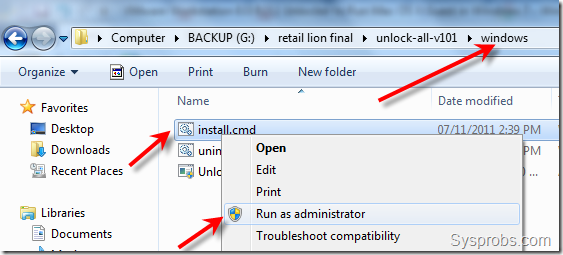 The successful patch will return the following screen (and disappears automatically)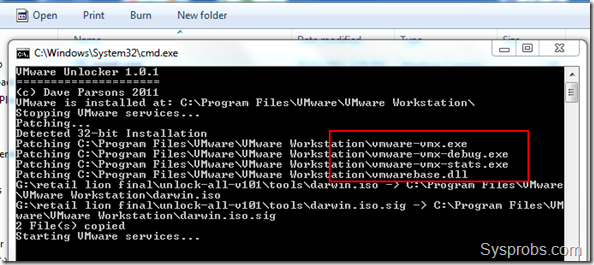 That's it. You patched the VMware workstation 10, 9, 8 on Windows 7 host to run Mac OS X Lion guest.
Restarting the host computer is not required here.
Here is the working Mountain Lion OS X 10.8 in VMware workstation 9 with Windows 7 32 bit host after
running unlocker.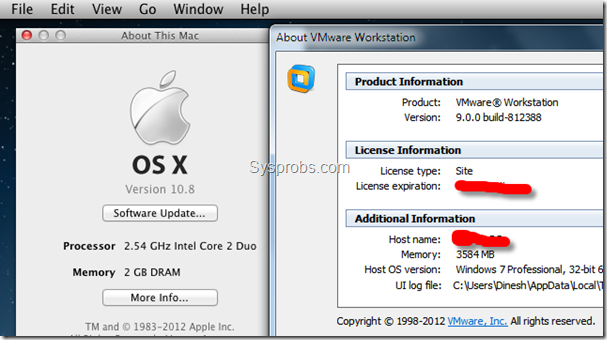 I hope this guide would be helpful in getting the download link of VMware workstation unlocker and how to
install it on Windows 10/8.1 for VMware workstation 12/11 to get most of the latest Mac OS X version
including OS X 10.11 El Capitan and Yosemite.
Reference:http://www.sysprobs.com/vmware-workstation-8-0-8-0-1-unlocker-to-run-mac-os-x-guest-in-windows-7